On 23-25 February, for the third year in a row, Vilnius University Kaunas Faculty is organising VU CYBERTHON 2023, an online international cyber security competition for high school and university students, as well as cybersecurity experts. The scope of the event has been increasing each year, with the VU Institute of International Relations and Political Science joining the team in 2023 as well.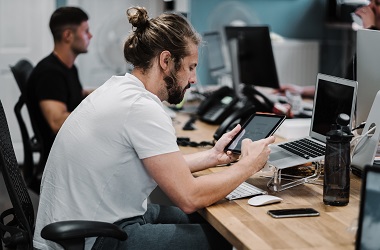 The event is organised for educational purposes: in the context of an unstable geopolitical situation, the topics discussed in it are becoming more and more relevant on a global scale for both amateurs and professionals. Participants will be invited to explore cyber security topics, national and private sector cyber security challenges, analyse the cyber resilience and security situation in Lithuania, develop critical thinking and to use their creativity in solving various tasks prepared by the organisers.
On 23 February, 9:30 EET, the event will start with a live webcast of the cybersecurity forum How Secure is Lithuania's Cyberspace? (presented in Lithuanian). The two sessions will focus on national cyber capabilities, with panellists discussing the public and private sectors, their challenges and future developments. The state of Lithuania's cybersecurity, the most important innovations to ensure defence capabilities against cyberattacks and expectations for the future will be among the discussed topics.
On 24 February, 9:00 EET, the remote Cyber security conference will showcase research from higher education institutions, business-developed solutions and institutional expertise. The presentations will be streamed live on the Vilnius University Kaunas Faculty Twitch account. The guest speakers will present in English.
25 February is the day of the competition. Registered participants will have access to the task platform. You can participate individually or in teams. Participants are given 12 hours to solve the tasks, which will cover web application security, cryptography, steganography, information intelligence, computer network security, forensics and other areas, and will be presented in English. Highest scoring participants will be awarded with cash prizes.
The event has been continuously supported by the Ministry of Education, Science and Sport of the Republic of Lithuania, the National Cyber Security Centre and the Lithuanian Forensic Expertise Centre. Traditionally, the cash prizes will be awarded by NORD Security.
Follow the link for more information and to register: https://www.cyberthon.lt/
2023-02-22