Erasmus+ traineeship is a traineeship (work placement) abroad in an enterprise or any other relevant organization in the Erasmus+ programme country.
Piciu Florin-Alexandru, a student from Romania (University of Pitęsti) done Erasmus+ traineeship at Vilnius university Faculty of Mathematics and Informatics Cyber Security Lab. He share with us experience about Erasmus+ traineeship.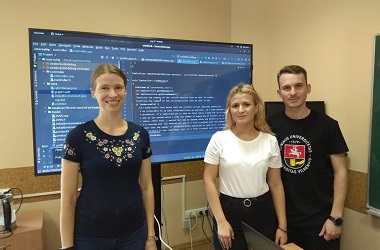 Traineeship experience and supervisors at VU MIF
The thing I liked most about this internship was the professionalism: it was well organized, the coordinators were very well trained and understanding. The supervisors at VU MIF are very good, the try to keep the subject they teach as actual as they can.
The atmosphere at labs is very pleasant, you can always ask whatever you want regarding the subject and you'll get help and explanations.
Erasmus+ traineeship at VU MIF – why?
I was an Erasmus student at VU MIF for the whole academic year 2019-2020, I enjoyed the courses at VU MIF, I liked the experience at this university and after that I found the opportunity to take part of this internship. I didn't have any experience with Cyber Security and I considered that this is a great chance to get in this new field, already knowing that the teaching staff of the faculty is very well trained.
Living in Lithuania – wonderful experience
Living in Lithuania is a wonderful experience. I'm not talking just only about Vilnius because during this year I traveled also to another cities: Kaunas, Trakai, Klaipeda, Palanga, Nida and of course Vilnius. Even if not all the cities have the infrastructure of Vilnius, they are still very clean and nice organized.
People are very polite. About prices I can say that, in Lithuania the prices are not so high. Living in Vilnius is very nice, the city is very big, you have a lot of places to visit. I'll always recommend to people to visit Lithuania at least once.
Would you recommend Erasmus+ traineeship in Lithuanian to your friends?
Of course, I'll recommend Erasmus+ traineeship in Lithuania. The main reason is that the internship subjects that are available here are not so common but Cyber Security is a current field. Choosing a traineeship here you'll have a mix of learning new things, live in another country, socialize, meet people and travel in at least 2 months.