Significant Growth of State-Funded Student Places at Vilnius University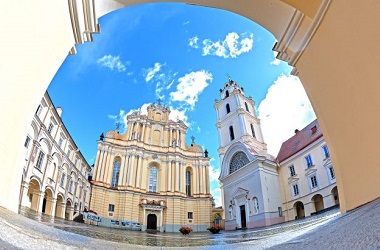 At the end of the main stage of general admission to higher education institutions, Vilnius University (VU) received 28,673 applications from students, of which 5,978 were submitted as the first priority. After the first stage, 4,247 persons were invited to study, 3,585 of them were invited to state-funded student places. VU Vice-Rector for Studies Associate Professor Valdas Jaskūnas points out that the number of entrants to VU has been growing for the fifth year in a row, but the growth of state-funded student places is even more gratifying.
"Of all Lithuanian higher education institutions, VU attracts the most state-funded places – this year we received 43 percent of the total state funding allocated to universities, while last year we received 37 percent. We are leading in the study groups of mathematics, physics, life and humanities", says Associate Professor Jaskūnas.
According to the VU Vice-Rector for Studies, the results of this year's main admission stage show unchanging tendencies of the most popular study programs – the fields which are most in demand remain as medicine, psychology, law, international business, and creative communication. "It is gratifying that the call to choose pedagogical studies has been heard – VU trains teachers in various forms, and all students can acquire the qualification of a teacher by choosing parallel studies," he says.
However, Associate Professor Jaskūnas draws attention to the declining interest in Scandinavian language and IT study programs, which may lead to a shortage of specialists needed for business development in the future.
According to the Vice-Rector for Studies, the start of VU Šiauliai Academy after the reorganisation of Šiauliai University has been successful. One of the main teacher education centres in Lithuania has seen a high percentage of growth in teacher training and curriculum systems.
"VU Šiauliai Academy Teacher Training Centre has received a lot of trust. The special pedagogy program undoubtedly has the greatest potential in Lithuania. VU has also refined studies that meet the needs of the region. At the moment, we see that there is a great shortage of IT specialists for the development of the region, therefore we are happy to see the growth of students entering the information systems studies. While developing studies in Šiauliai, IT and pedagogical study programs are considered a priority, therefore targeted investments in the quality of studies and the environment are planned," says Associate Professor Jaskūnas.
At the end of the main admission stage, VU intends to provide most of the proposed programs in the second stage as well. At this stage, it will also be possible to apply to study in state-funded student places. The additional admission stage will run from 13 August to 16 August.
2021-08-10