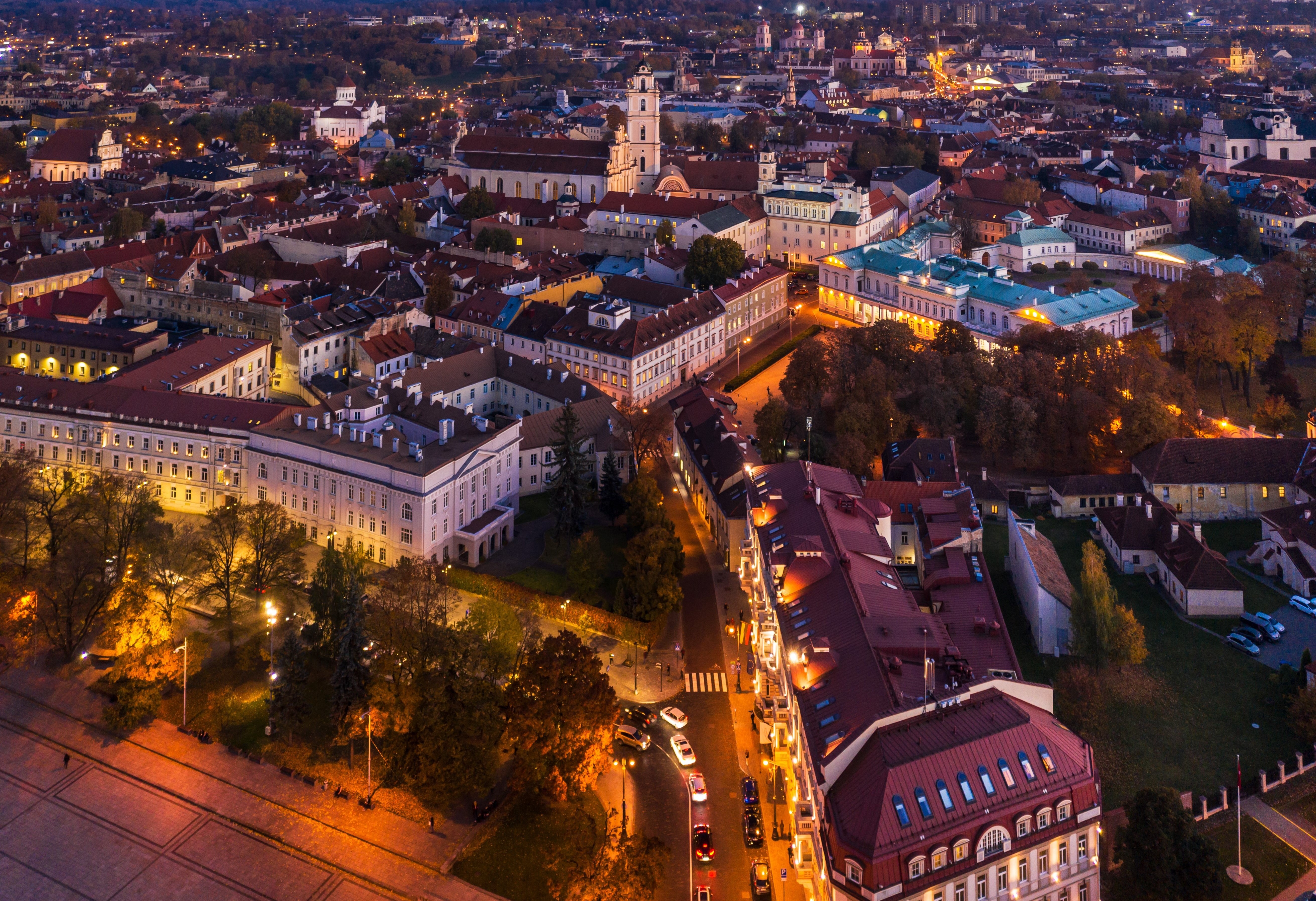 Do you like long walks and sitting in cosy cafés? Do you admire the ancient architecture of cities, or do you like to visit museums or galleries? Or maybe you're the type of person who enjoys active pursuits? We have good news - there are activities and places to do in Vilnius for everyone! The capital of Lithuania has something to offer both for the romantic soul and the thrill-seeker.
Vilnius is easy to walk 10,000 steps in and around the city, with its many nature trails and verdant parks. You can take a gondola ride (yes, you don't have to go to charming Venice), go hot air ballooning, which is very popular in Vilnius, visit the Museum of Contemporary Art, dine in the dark or go on a tour of Lithuania's most famous former prison (we promise spicy sensations)! And that's just some of the fun you can find in Lithuania's capital! Are you eager to try it all?
Spectacular architecture - an eye-catcher
Vilnius architecture is characterised by different styles: gothic, baroque and classicism. The bright rooftops of Vilnius, which are fun to look at from the viewpoints, are even featured in a popular Lithuanian pop song! No wonder the city's historic centre is a UNESCO World Heritage Site. It includes the Vilnius Castle Complex, the current Presidential Palace, the National Philharmonic Hall, the Dawn Gate, the Cathedral, the Bernardinai, St. St. Michael's, St. St. Anne's and other churches. Did you know that Napoleon himself wanted to take the latter to Paris on the palm of his hand, impressed by its beauty?
Historical heritage also includes the magnificent buildings of Vilnius University with St. St. John's Church! Won't it be wonderful to walk around a city that will be admired for generations to come? Don't miss the opportunity to visit the most beautiful places in the city. Wonder what secrets the romantic streets of Vilnius would reveal if they spoke? Old Vilnius has plenty to surprise you...
Not just churches and red roofs
Impressive buildings and charming walks are not all Vilnius has to offer. Lithuania's capital is a bold city. Have you heard about the city's "Vilnius - Europe's G-spot" advertising campaign? If not, we encourage you to check it out - you'll be surprised what secrets Vilnius hides behind its cosy churches! Let's just say that the city won the International Travel & Tourism Awards, known as the "Oscars" of tourism, for this commercial, leaving Las Vegas behind!
Vilnius' nightlife is also active. There are plenty of bars and trendy nightclubs in the heart of the city to keep you partying until the wee hours! The City Council has set up the Vilnius Night Bureau to make sure that Vilnius residents and visitors have a safe night out. For those who don't like noisy places, the city offers a different kind of nightlife: moonlit cruises on the Neris River, paddleboat tours, night excursions or shooting! Just be careful!
2023-09-13