Vilnius University Invites Talented Ukrainians to Study for Free and Receive a Special Scholarship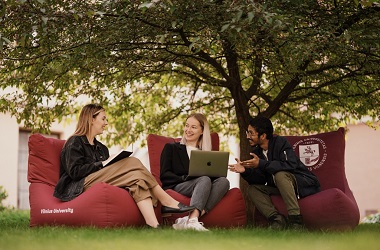 Vilnius University (VU) offers free studies and financial assistance to the most talented Ukrainian students for the second time. Three years ago, VU established The Grand Duchy of Lithuania Scholarship specifically for Ukrainian students who enroll at VU, aimed at covering their living expenses during the first year of studies.
Ukrainian students applying to VU can choose from bachelor's, integrated, and master's degree programmes. Just like last year, some students from Ukraine will not have to pay any tuition fees for their studies, while the most talented students will receive special monthly scholarships of 300 euros, established by VU, during their first year of studies.
Last year, over 400 Ukrainian students started their studies at VU. All of them received The Grand Duchy of Lithuania Scholarship, and 370 students were exempted from tuition fees at VU through their own means or funds provided by the Ministry of Education, Science, and Sport. One such student was Mariia Torianyk, a Ukrainian girl who chose to study global advertising at VU's Faculty of Economics and Business Administration.
"When choosing my studies, the main factors for me were whether the university provides support for Ukrainian students, the university's position in global rankings, and whether they offer the programme that interests me in English. I was surprised to learn that VU is among the top 400 universities in the world. Because of these reasons, I chose to study at VU, and I am very happy with this decision. My study programme is interesting, and all the professors are professional and kind. In my course, there are 50 students of different nationalities, ages, and experiences, so it's easy for everyone to find like-minded people and friends," says Mariia, expressing her satisfaction with her studies.
This year, the application deadline for Ukrainian applicants has been extended until August 20, 2023. Admission will be conducted through the VU admission system, apply.vu.lt. Ukrainian citizens planning to study in Lithuania must arrive no later than August 25, 2023.
Two years ago, VU established the special "Birthday (later renamed "450th Anniversary") Scholarship", and three years ago, introduced The Grand Duchy of Lithuania Scholarship for Belarusians, later extended to Ukrainians. VU aims to fulfill its social mission and increase access to higher education for everyone. Neither regimes that try to suppress democratic processes through repression nor the social or financial situation of young people's families should hinder them from pursuing higher education.
You can find information about admissions and The Grand Duchy of Lithuania Scholarship for Ukrainian citizens here.
2023-06-12