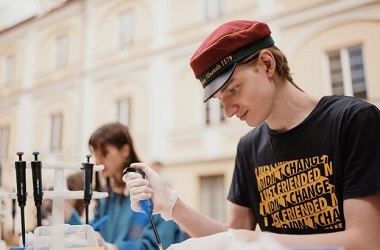 From 24 to 28 October, Vilnius University (VU) hosts the traditional "Student for a Day" lecture week. During these days, almost 300 lectures will be given in the classrooms of the VU faculties and remotely, and students are invited to try out the student chair.
Participants are invited to join current VU students in lectures at 15 faculties, including Kaunas and Šiauliai. Student for a Day classes are also organised in English for international students.
Students attending the lectures will not only have the opportunity to experience what it is like to be a student at a leading Lithuanian university, but also ask questions to VU lecturers, enrich their knowledge, discover new disciplines, and evaluate or even decide more easily what they want to study.
Registration for the remaining free places in the Student for a Day lectures is open now - registration is open 24 hours before the start of the lecture.
More information and the registration for the lectures.
2022-10-24