Studies Office Contacts
STUDIES OFFICE


Head of Studies Office

INGA BARANAUSKAITĖ


Responsible for:
– organization of the work of the study department,
– organization of study exchanges,
– coordination of study quality processes.

Naugarduko st. 24, room 122B, Vilnius, Lithuania
Phone +370 5 219 3053
E-mail

Advising hours (by prior arrangement):
Monday - Thursday
9.00 - 12.00 and 13.00 - 16.00
Friday
9.00 - 12.00 and 13.00 - 15.00


Study Administrator

NERINGA BINGELIENĖ

Responsible for Bioinformatics and Software Systems study programs :
– administration of study programs,
– coordination of final and written assignments,
– administration of electives.

Didlaukio st. 47, room 205, Vilnius, Lithuania
Phone +370 5 219 5026
E-mail



Advising hours (by prior arrangement):
Monday - Thursday
9.00 - 12.00 and 13.00 - 16.00
Friday
9.00 - 12.00 and 13.00 - 15.00


Study Administrator

AISTĖ GRIKIETĖ


Responsible for Informatics, Information Technology and Computer Modeling study programs:
– document administration,
– coordination of final and written assignments,
– administration of electives.

Didlaukio st. 47, room 205, Vilnius, Lithuania
Phone +370 5 219 5047
E-mail



Advising hours (by prior arrangement):
Monday - Thursday
9.00 - 12.00 and 13.00 - 16.00
Friday
9.00 - 12.00 and 13.00 - 15.00


Study Administrator

DAIVA KAUKĖNIENĖ

Responsible for:
– auditorium reservations,
– study schedules.



Naugarduko st. 24, room 104, Vilnius, Lithuania
Phone +370 5 219 3056
E-mail



Advising hours (by prior arrangement):
Monday - Thursday
9.00 - 12.00 and 13.00 - 16.00
Friday
9.00 - 12.00 and 13.00 - 15.00


Study Administrator


JUSTINA KRAULEDAITĖ

Responsible for:
– organization of exchanges of studies and traineeships,
– coordination of the admission of foreign students.

Naugarduko st. 24, room 122B, Vilnius, Lithuania
Phone +370 5 219 5028
E-mail



Advising hours (by prior arrangement):
Monday - Thursday
9.00 - 12.00 and 13.00 - 16.00
Friday
9.00 - 12.00 and 13.00 - 15.00


Study Administrator

JULIJA KURILOVA


Responsible for:
– study counseling,
– issuance of certificates, study documents,
– acceptance of applications.

Didlaukio st. 47, room 210B, Vilnius, Lithuania
Phone +370 5 219 3055
E-mail



Advising hours (by prior arrangement):
Monday - Thursday
9.00 - 12.00 and 13.00 - 16.00
Friday
9.00 - 12.00 and 13.00 - 15.00


Marketing and Communication Specialist

LAURA MISIŪNAITĖ


Responsible for:
– publicity of the name of the faculty and the activities carried out,
– organization and administration of studies and publicity works,
– internal communication of the faculty community.

Naugarduko st. 24, room 104, Vilnius, Lithuania
Phone +370 5 219 5029
E-mail



Advising hours (by prior arrangement):
Monday - Thursday
9.00 - 12.00 and 13.00 - 16.00
Friday
9.00 - 12.00 and 13.00 - 15.00

Study Administrator

LAIMA PALIULIONENĖ

Responsible for Information Systems Engineering study program :
– document administration,
– coordination of final and written assignments,
– administration of electives.

Naugarduko st. 24, room 122C, Vilnius, Lithuania
Phone +370 5 210 9307
E-mail



Advising hours (by prior arrangement):
Friday
10.00 - 13.00



Study Administrator

ALINA ŠATAITYTĖ-BORYSEVIČIENĖ

Responsible for:
– organization of professional practice,
– reception administration,
– administration of contributions,
– parallel studies,
– additional studies.

Naugarduko st. 24, room 108, Vilnius, Lithuania
Phone +370 5 219 5027
El. paštas



Advising hours (by prior arrangement):
Monday - Thursday
9.00 - 12.00 and 13.00 - 16.00
Friday
9.00 - 12.00 and 13.00 - 15.00


Study Administrator

RŪTA ŠLAUSTIENĖ


Responsible for Mathematics study programs:
– document administration,
– coordination of final and written assignments,
– administration of electives.

Naugarduko st. 24, room 122C, Vilnius, Lithuania
Phone +370 5 219 3088
El. paštas



Advising hours (by prior arrangement):
Monday - Thursday
9.00 - 12.00 and 13.00 - 16.00
Friday
9.00 - 12.00 and 13.00 - 15.00
FAQ on Studies
Where can I find available sources for my research and studies?
Vilnius University offers access to a variety of databases statistics, mathematics, informatics and information engineering. Full list of available databases can be found here, and the search engine for Vilnius University library can be found here.
Where can I find my course outlines and readings?
Vilnius University Virtual Learning Environment is usually used for sharing study-related information at the VU IIRPS unless there is a separate agreement with your lecturer.
How could I improve my studies?
Student feedback is the key to having quality studies. You can always express your opinions directly to the lecturers or the Coordinator of International Studies at Studies Office. As well as that there are surveys that you can fill out at the end of the semester. Your opinion builds the basis for improvement.
Where could I print the materials for my studies?
You can print or copy sources at the library. More information can be found here.
How can I register for the elective course?
If the elective course is in your study plan, registration for the elective subject can be done online by logging into VU information system ▸ Enrollment ▸ Optional Courses. If the system does not provide any options or there are other obstacles to choose, please contact the Studies Office () to report any error that may have occurred.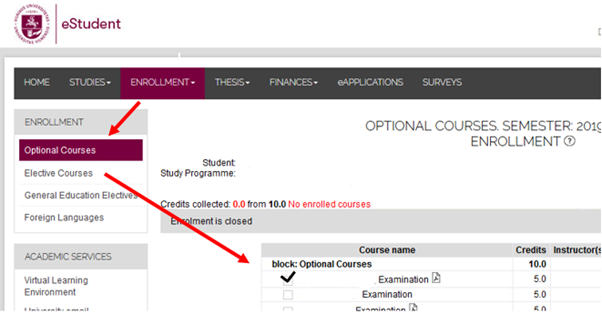 Who should I contact if I fail to register for the elective course in time?
If you have not enrolled in the elective course before the start of the semester, you will be able to enrol during the first two weeks of the semester. If you have not enrolled for the elective course more than two weeks after the start of the semester, contact the Studies Office as soon as possible (). If the student does not enrol in the elective course(-s), the student obtains a debt.
What should I do if I'm ill during the exam session?
A student who is unable to attend a final assessment of the subject at a time indicated on the timetable due to illness or other relevant reason should submit an application to the Dean of the Faculty for permission to organise the final assessment of subject at another time and provide documents supporting the request. The postponing of the final assessment should not be longer than within two weeks since the beginning of a new semester.
A student should inform Studies Office about the absence on the exam at least three days after an exam (phone +370 5 219 3055, email: ).
What is my status if I have suspended my studies for a while?
You are still a student.
What should I do if I have academical debt?
If you fail an exam, you have an opportunity to retake an exam during the two first weeks of the new semester. If you fail again, you will get academical debt. In this case, you will have to submit a request for repetition of the subject. Contracts are signed at Studies Office.
How much I have to pay if I would like to re-take an exam externally?
25 % of the total amount of retaking a subject (module).
How much I have to pay for retaking of a subject?
The price for retaking a subject consists of the total credits of a subject multiply by a price for 1 credit.
What is the price for one credit?
In order to know the price for 1 credit, you should find a price per year for your studies at your Study Agreement and divide it by 60 credits (only for full-time studies).
Where can I order Lithuanian Student identity card (LSIC)?
This card is your proof of identity. It enables you to use your higher education institution's library, inventory, attend exams, find out your grades and to log in to your institution's online information system. LSIC also gives you certain privileges. You can use public transport cheaper and there are various discounts for students all over the country. Thanks to new LSIC partnership program the number of these discounts is growing very fast. LSIC is a must-have.
You can order it here lsp.lt.
How can I order optional and additional courses?
The study programme consists of mandatory, optional and additional courses. In order to choose optional or additional ones before the begin of the new semester, you should log in in VU Student Information System.
Exchange
Are there any exchange opportunities available for master's students?
All master's students at the VU IIRPS are eligible to participate in Erasmus study and internship exchange programmes. Vilnius University also has bilateral agreements with various other universities from around the globe. Full list of partner universities can be found here.
Where could I find the list of partner universities?
An updated list of partners can be found on this VU International Relations website.
When can I apply for exchange?
The program competition is published twice a year:
February for the fall semester or for the next school year;
September for the spring semester.
The call for applications and the exact dates of the selection competition are published in Faculty News and News from the International Relations Unit at VU. ERASMUS + applications are submitted through the VU exchange system.
How can I know the result of the selection?
At the end of the online registration, the Faculty Selection Board evaluates student motivation, study outcomes, conducts selection interviews (if required), and publishes the competition results on the VU exchange system and /or by e-mail not later than two weeks after the deadline for application.
Internship
Where could I find the important information and details about the internship?
You can find information about internship and useful links in the Studies-> Internship section of this website.
What is the period of the internship and workload per week?
Internships period and workload per week are set by the Study Programme Committee. Follow the programme information for the specific details about the internship in each study programme.
What is the deadline for submitting the documents for the internship?
Follow the programme information for the specific details about the internship in each study programme.
I am late to find internship placement, what can I do?
If you assume that you are going to be late to find the internship placement, please contact Study Administrator for internships.
FAQ on E services
VU e identity management
After signing a (full-time) study contract at Vilnius University, you can use VU webmail. Registration is done in the VU Identity Manager. With Identity manager You can:
Create/activate VU e-mail address;
Activate access to VU IS;
Activate EDUROAM wireless network service;
Activate VU VPN service;
Change e-mail address (when your name, family name or faculty has changed);
Change your identity password;
Change the forgotten password.
The description of how to do it can be found here.
MIF e identity management
Each full-time student at our faculty has a unique username and password. Username is made from Name and Surname, for example, Name Surname - nasuxxxx, where x - any numeral. To find your username mif.vu.lt/user, to change password mif.vu.lt/passwd or in any computer lab press Help.
How to do it here.
Wi-Fi
Wi-Fi is available in all campus and faculty buildings:
Authorization to the "MIF-Open" wireless network takes place in a browser with MIF IT user credentials.
Vilnius University also has an Eduroam network, you can join it if you have subscribed to the service via VU IS at https://id.vu.lt. Instructions for connecting to the Eduroam network can be found here.
Where to find lecture schedule?
Lecture timetables can be found here
Where to find Virtual Learning Environment?
Moodle learning environment can be found here
Where to find internship system?
An internship is a part of a student learning programme, providing the opportunity for a student to consolidate and improve his general knowledge and skills, gained in the education process, by accomplishing professional tasks in accordance with company demand. Read more in the faculty's practice system.
Read more about VU E-Services www.epaslaugos.vu.lt. Information about e-services at our faculty could be found at Digital Science and Computing Center.