Exchange studies in the USA and other countries
Vilnius University students are invited to participate in the ISEP student exchange programme and spend Fall semester or the whole Academic year 2018/2019 in one of the Universities in the USA or some other country.
ISEP programmes offers tuition free studies, as well as free accommodation and meal plan!
For more information please visit: https://www.vu.lt/en/studies/degree-students/exchange-for-degree-students
Application documents are accepted until December 12, 2017 (inclusive).
If you have any questions, please feel free to contact:
Julius Pukelis at This email address is being protected from spambots. You need JavaScript enabled to view it.
VU Central building, International Programmes and Relations Office, Room 242
Tel. +370 5 268 7156
Please pay your financial debts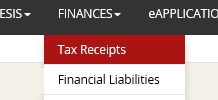 Dear students,
we remind you that all financial liabilities (for studies, course repetition, etc.) must be paid before 1st of October.
You can check your financial liabilities at VU IS (https://is.vu.lt) -> FINANCES-> Financial Liabilities
You can print a tax receipt at VU IS (https://is.vu.lt) -> FINANCES-> Tax Receipts
If you have any questions please contact us by e-mail This email address is being protected from spambots. You need JavaScript enabled to view it. or call +370 5 219 5020.
Please provide your bank account number
please provide your bank account number, so VU MIF Students' Office would be able to transfer your scholarship.
You can add your bank account number by loging into VU IS (
https://is.vu.lt
) and filling eAPPLICATION "dėl banko sąskaitos užregistravimo" (unfortunetaly, application name is in Lithuanian, but the form is translated to English).
Thank you for your support!
If you have any questions...
All students are welcome at the Students' Office at Naugardukas st.
If you visit room 106, you will be able to get documents and information about:
certificate of student status;
certificate of payment;
exam transcripts;
repetition of the subject;
academical debts;
payments for the studies.
At room 104 you will be able to get information about:
Erasmus internship;
timetable.
Advising hours:
Monday - Thursday 9 am - 4pm
Friday 9 am - 3 pm
Lunch break 12-13 pm
Or contact us by email This email address is being protected from spambots. You need JavaScript enabled to view it.